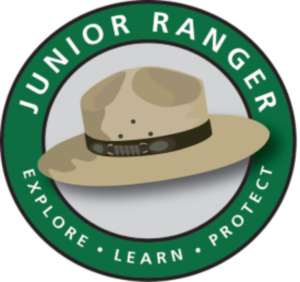 Become a Junior Ranger on the Art Bench Trail.
Did you know the St. Croix River is a national park? Become a Junior Park Ranger as you explore the Art Bench Trail by doing these fun art & nature activities:
Write a Haiku Poem
Sit quietly on an art bench. What do you hear and see? Write a three-line haiku poem about how this makes you feel. Use 5 syllables in the first line, 7 in the second, and 5 in the last.
Play Animal Charades
What animals live in the St. Croix River Valley? Look at the art benches to help you come up with ideas. Remember, insects, reptiles, birds, and amphibians are animals, too! Play a game of charades with your family and friends, taking turns acting out different animals.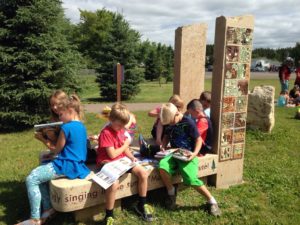 Tell a River Story
Each art bench tells a story about a place in the St. Croix River Valley. Look for clues in the shapes, materials, and other details you discover on the benches. Think about where the bench is located, too. Using words or pictures, share your own story about a place on the river you know and love. Where does the water come from? Where does it go?
Make a Texture Rubbing
Touch the art benches to find different textures. Place a piece of paper on top of each and gently rub the surface with the side of a crayon or colored pencil. Do the same with textures you find in nature. Combine rubbings on the same paper. What about them is similar? How are they unique?
Earn your very own Junior Ranger badge. Complete four activities and e-mail your answers to SACN_Info@nps.gov​.
The Junior Ranger Art Bench Trail program is presented by The Phipps Center for the Arts in partnership with the National Park Service.