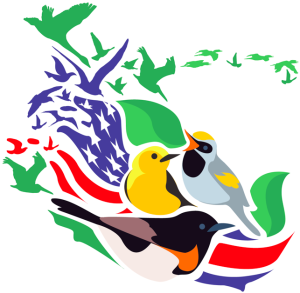 Learn more about the waves of migratory birds passing through the St. Croix Valley each spring by joining in the International Bird Migration Celebration May 8 and 9.  Events are planned at a variety of locations along the St. Croix Flyway the 8th and 9th, and throughout the summer.  A lead up event "Poets on the Wild Side" will be held at the Watershed Cafe in Osceola on Wednesday evening, May 6.
Friday May 8
The Bird Migration Celebration kick-offs at the Phipps Center for the Arts in Hudson with a reception and program.  The program featuring Ben Twaites begins at 7 p.m.  Ben is a nature photographer who developed a nature photographer program, "In a New Light" at Northwest Passage, a resident facility for emotionally troubled teens.
Saturday, May 9
Hands-on, family friendly activities providing information and education about migratory birds are planned at a number of locations in the St. Croix Valley.  Activities will be held in the morning.
All locations will also include a variety of activities. Highlights at each event include photographing birds, a workshop at Wild River State Park, in collaboration with Interstate Park.  Bird banding will occur at Warner Nature Center and at the Wisconsin Campus of Carpenter Nature Center south of Hudson (Troy Township).  A Story Book Nature Walk will highlight activities at the Great River Road Visitor Center/Freedom Park in Prescott.
The reception and program on Friday and The St. Croix Flyway Bird Migration Celebration activities are sponsored by Tropical Wings, a group of citizens supporting the Sister Park partnership between 13 US national parks of the Upper Midwest and 7 parks and protected areas of Costa Rica's Osa Peninsula.  The Costa Rican parks and partners held the 2nd annual bird celebration in March, as birds were beginning their migration north.  This is Tropical Wings' 2nd bird celebration in the St. Croix Valley.
Watch for more details and visit www.artbenchtrail.org/events/tropicalwings as information becomes available.
Contact Judy Freund at 715-386-9336.