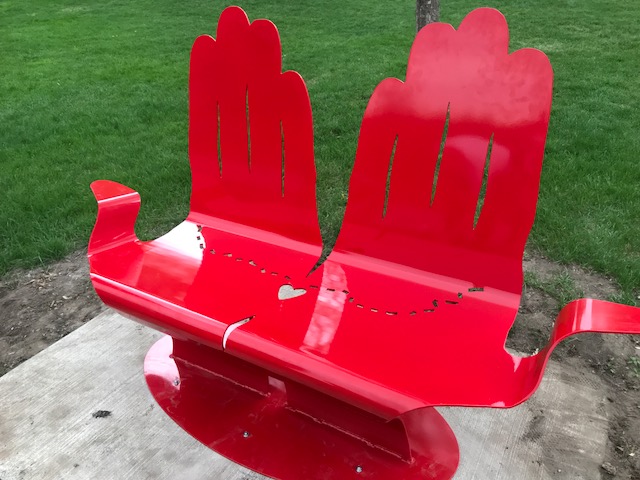 The newest community art project on the St. Croix River Valley Art Bench Trail (www.artbenchtrail.org) will be unveiled on Wednesday, May 30, at 4:00 p.m., in Pioneer Park, Stillwater, Minn. The public is invited to this free event. The Art Bench, titled "Couldn't Have Done It Alone," is in the shape of a pair of hands, painted bright red, and with a cutout heart and path of the river on its seat.
The bench was designed in 2016 by Stillwater Middle School students Bella Anderson, Mia Eliasen, John Finney, Tessa Johansen, Tate Johnson, Nick Nguyen, Belle Rhoney, Lilly Sample, Mac Schlenker, Hannah Sween, Clarice Vrambout, Keenan Walker, and Eleanor Wilhelmi, along with art teacher Megan Beadle and local artist Julia Kaemmer. The final design concept was developed in 2017 by the students and artist Allen Christian (www.houseofballs.com).
Working on the new Stillwater Art Bench project opened the eyes of the 13 student artists to their hometown and to the people who care for their neighbors. The bench is dedicated to longtime St. Croix Valley Red Cross employee Jan George and celebrates her more than 30-year career of helping people, and her belief that we are most effective when we work together.
It was George who suggested the bench include joined hands as a symbol of teamwork and cooperation. It was the middle school students as well as the artists and teachers working with them who brought the bench to reality.
"Together we make a difference, alone we don't," George says.
Just like George wanted the bench to celebrate the many people in the community with whom she had worked, the students practiced collaboration to come up with a design. They wrestled over competing ideas, driven by their goal to celebrate someone who inspired them from the moment they met her.
Through George's eyes, many stories, and adventures throughout the St. Croix Valley, the group gained a new appreciation for the place that is their home.
"Couldn't Have Done It Alone" was funded in part by Andersen Corporation, Fred C. and Katherine B. Andersen Foundation, Hugh J. Andersen Foundation, HRK Foundation, SRI, and St. Croix Valley Foundation, and was made possible with support from ArtReach St. Croix, City of Stillwater, Franconia Sculpture Park, Leo's Grill and Malt Shop, The Phipps Center for the Arts, Red Cross Nurses, River Market Co-op, Science Museum of Minnesota, St. Croix National Scenic Riverway, Stillwater Middle School, Washington County Historical Society, and Youth Conservation Corps.
The Art Bench Trail is a partnership of The Phipps Center for the Arts, the St. Croix National Scenic Riverway, and the St. Croix Valley Foundation.
For more information, contact Anastasia Shartin, Visual Arts Director of The Phipps Center for the Arts, ashartin@thephipps.org, 715-386-2305, ext. 103.